Ecuadorean government extends state of emergency
Ecuador revolt: Attempted coup or uprising?
Ecuador calm after revolt; Correa alleges coup
Ecuador in state of seige, region supports Correa
Ecuadorean troops rescue leader from rebel police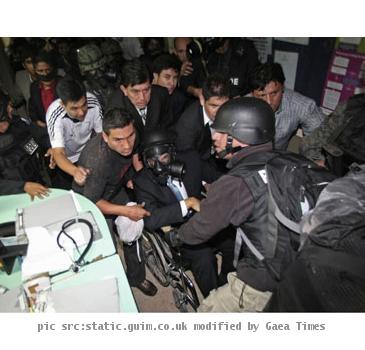 more images
Ecuador troops rescue president from rebel cops
Ecuador minister: 1 dead, 6 hurt in cop protests
QUITO - Ecuadorian President Rafael Correa claimed Thursday a police mutiny that was causing chaos in the South American country was an attempted coup.
Protesting police throw Ecuador into chaos
Protesting police, soldiers seize Ecuador airport
Clinton Iran sanctions will be toughest ever
Guayaquil march protests against Ecuador's gov't
QUITO - The presidents of Ecuador and Colombia have agreed to renew diplomatic ties between the neighbouring South American countries, Ecuadorian Foreign Minister Ricardo Patino said.
Ecuador to restrict number of cars in rush hour
Ecuador: US helped Colombia attack on FARC chief