Lalgarh turned into war zone for Mamata's rally
By IANS
Monday, August 9, 2010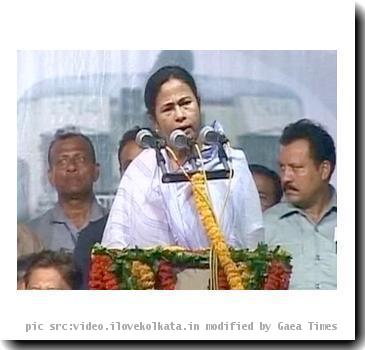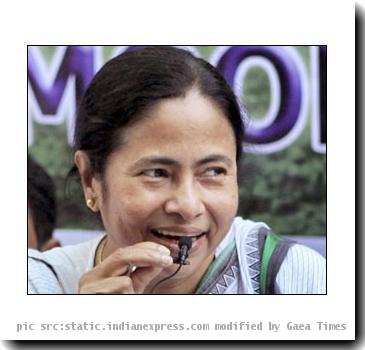 LALGARH - Bunkers on rooftops, watch towers, land mine vehicles — this Maoist-hit area looked like a virtual war zone Monday as security agencies left no stone unturned to maintain peace during Railway Minister and Trinamool Congress chief Mamata Banerjee's much-publicised public meeting.
The entire Lalgarh, 200 km west of Kolkata in West Midnapore district, and its adjoining areas were Monday placed under the control of 13 companies of security personnel comprising state police and the paramilitary Central Reserve Police Force (CRPF).
"A good number of CRPF jawans were deployed in the jungles - Pirakata and Jhitka - through which the metalled road from Bhadutala near district headquarters Midnapore town to Lalgarh passes. All the vehicles were stopped about one km before the rally venue and every person checked thoroughly and even their identity proof was verified," a senior police official said.
CRPF jawans were engaged for maintaining law and order apart from keeping a close vigil in the area.
Several bunkers were set up on housetops and watch towers constructed as part of providing fool-proof security.
West Midnapore police superintendent Manoj Verma said: "The entire route from Midnapore through which Mamata Banerjee's convoy travelled to Lalgarh was totally under the control of the security men. Similarly, huge deployment was made on the other routes through which rallies came to the venue."
"Anti-landmine vehicles and dog squad were pressed into service since Monday morning. CRPF jawans were deployed in the rally venue and also near the dais."
Meanwhile, a pro-Maoist activist was arrested by the police for his alleged Maoist link from Lodhashuli near Jhargram Monday when he was on his way to attend the rally.
Verma said, "Sushil Mahato was wanted in several cases like extortion, sedition and other criminal activities. He was arrested while he was coming to attend the rally."
An intense combing operation was initiated in the Gohmidanga forest area and adjoining localities after the joint forces personnel were informed that People's Committee Against Police Atrocities (PCAPA) spokesperson and other senior leaders like Manoj Mahato, Asit Mahato and Umakanta Mahato, who are wanted in several cases, either have taken shelter there or attended the rally in disguise.
A controversy was sparked off over the deployment of Railway Protection Force (RPF) personnel for providing security to the railway minister.
The state government has already raised a question on that issue and a detailed report might be sought by the state government from the centre.
Director General of Police Bhupinder Singh said at the state secretariat Writers' Buildings: "RPF personnel were found checking at several places in Lalgarh. The centre had not notified us about deployment of RPF in manning law and order. There were talks at the level of the Inspector General and then the RPF was withdrawn. Home Secretary Samar Ghosh may ask the centre for a report on the issue."
Ghosh said here the local administration will decide when Section 144 of CrPC (Which bans assembly of two persons at a time) will be re-imposed in six police station areas of Lalgarh, which was lifted because of Mamata Banerjee's rally.
"The Section 144 CrPC will be re-imposed there and the local administration will decide when they will re-impose it," said Ghosh.