Egypt Crisis Deepens
By Swatilekha Paul, Gaea News Network
Monday, January 31, 2011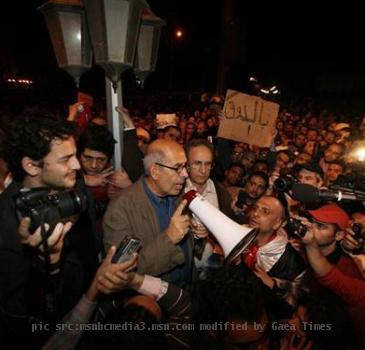 more images
CAIRO, EGYPT (GaeaTimes.com)- Mohamed ElBaradei, one of the leading opposition leaders in the trouble-torn Egypt issued his support to the anti-government protests that have been ongoing in parts of the country for the past few days and called for the resignation of President Hosni Mubarak amidst the crisis. The leading opposition leader talked to the thousands of protesters who had gathered at Cairo's Tahrir Square on Sunday and showcased his support to them by saying that the only demand of the demonstrators was the end of the regime and the initiation of a new Egypt in which the citizens would be living under virtue, dignity as well as freedom.
As the political crisis in Egypt further deepened with the anti-government protests reaching its sixth day, tanks were sent by the army at the Tahrir Square but with the large number of demonstrators that had gathered at the venue, all the tanks were promptly blocked. At the same time, fighter jets and helicopter have been patrolling parts of the Egyptian capital especially across the Tahrir Square in anticipation of any kind of clashes that might erupt as tension continues to prevail in the area with 10,000 protesters present at the square.
Meanwhile, in the wake of the Egypt crisis, White House sources have revealed that United States President Barack Obama is in close touch with other world leaders to assess the political scenario in the most populous Arab nation. A statement that has been issued by the White House reads that the U.S. President is watching the matter closely and has also asked other world leaders about their evaluation of Egypt's political turmoil.