Joe Manchin confused on his decision regarding DADT Repeal
By Avik, Gaea News Network
Monday, December 13, 2010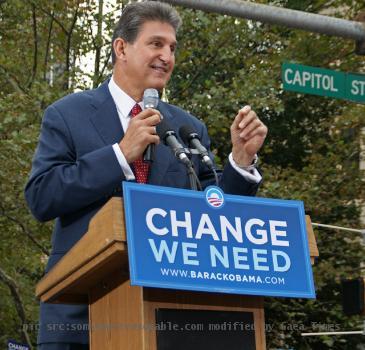 more images
WASHINGTON (GaeaTimes.com) — When questioned about his decision to vote against the D.A.D.T. repeal Joe Manchin answered that he himself was quite unaware of the fact as to why he did that.
According to Joe,
While I believe the 'Don't Ask, Don't Tell' policy will be repealed someday, and probably should be repealed in the near future, I do not support its repeal at this time," Manchin said in the statement. "I truly understand that my position will anger those who believe repeal should happen now and for that I sincerely apologize. While I am very sympathetic to those who passionately support the repeal, as a Senator of just three weeks, I have not had the opportunity to visit and hear the full range of viewpoints from the citizens of West Virginia.
Well, if you don't know Joe, let me tell you, Joe Manchin happens to be the junior United States Senator representing West Virginia. Manchin, a Democrat, was Governor of West Virginia from 2005 to 2010.