Omar not quitting, says Farooq after meeting Sonia, PM
By IANS
Thursday, September 16, 2010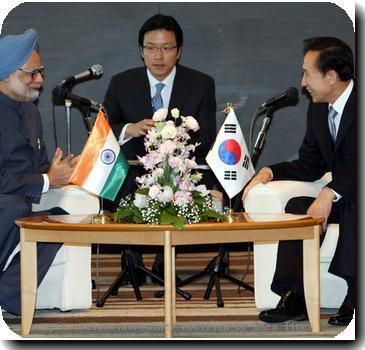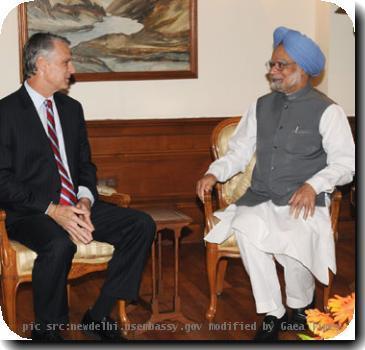 NEW DELHI - Jammu and Kashmir Chief Minister Omar Abdullah is not stepping down, his father and union minister Farooq Abdullah said Thursday after meeting Prime Minister Manmohan Singh and Congress chief Sonia Gandhi, setting at rest speculation that a change of guard was in the offing in the troubled state.
The beleaguered chief minister got more support in the form of comments from Congress general secretary Rahul Gandhi, who interacting with mediapersons in Kolkata, backed Omar's handling of his "tough and sensitive job".
"Omar has no intention of quitting. There is no move for that," Farooq Abdullah, National Conference chief, told reporters after his 20-minute meeting with Manmohan Singh in the national capital.
He earlier met Sonia Gandhi at her 10, Janpath residence for nearly 25 minutes, an office bearer of the All India Congress Committee told IANS.
Farooq Abdullah's meetings came ahead of a Congress core committee meeting on Kashmir Thursday, the third such meet. The senior Abdullah said he had met the prime minister to apprise him of the situation in violence-hit Kashmir.
Farooq's meetings came in the wake of some media reports and speculation in political circles that Omar may quit to pave the way for his father or the Congress may dump Omar and the National Conference (NC) to have a tie-up with NC's rival - the People's Democratic Party (PDP) led by Mehbooba Mufti.
Regarding the demand for withdrawal of the Armed Forces Special Powers Act (AFSPA), Farooq said the "overall security situation in Jammu and Kashmir and around the state" has to be considered for a decision.
"It is not the wish of Farooq Abdullah or anyone else that the situation (in Kashmir) is like this," he said.
Asked about the reports of the Hurriyat leaders' reluctance to meet the all-party team, scheduled to visit Kashmir Monday, Farooq said: "They can take their own decision. What can we say."
He said the all-party team will make its schedule and decide whom to meet.
Earlier, Farooq said he did not want to speak on his meeting with Sonia.
Rahul Gandhi, speaking in Kolkata, described the Jammu and Kashmir chief minister's job as a "tough one" and said "we have to give support and time" to Omar Abdullah.
"Our government has supported Omar, who is the elected leader of the National Conference, our alliance partner in the state. The National Conference is the party in power. It is their decision as to who runs the show," Rahul Gandhi said at a press conference.
"Kashmir is a difficult place. I think Omar is doing a tough job… I think we have to give him some time and support. Kashmir is a tough and sensitive job."
In Srinagar, Omar said he "was thankful to Rahul".
The all-party delegation is visiting the troubled state in the wake of the cycle of violence in Kashmir Valley since June 11, which has seen 90 civilians, mostly teenagers and youth, killed in firing by security forces on stone-pelting street protesters.