Obama, British leader say they have right strategy for Afghanistan war, in critical period
By Mark S. Smith, AP
Saturday, June 26, 2010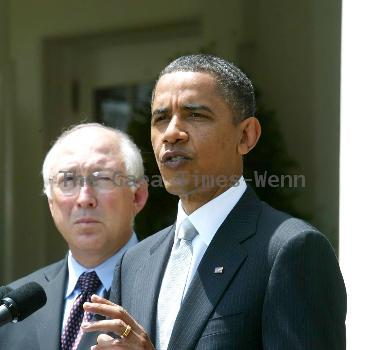 more images
Obama, Brit leader: Afghanistan in critical period
TORONTO — President Barack Obama and British Prime Minister David Cameron said Saturday that the troubled Afghanistan war must show progress this year.
The two leaders, concluding their first meeting since the conservative British leader took power last month with a coalition government, said their nations have the right strategy in Afghanistan.
"This period that we are in is going to be critical," Obama said.
Added Cameron: "Making progress this year, putting everything we have into getting it right this year is vitally important."
With a resurgent Taliban, major U.S.-led offensives planned and June already the deadliest month of the nine-year-old Afghanistan war, the fight is considered at a critical juncture.
Earlier, Obama and Cameron were part of a statement from the summit of the leading eight industrial democracies that sketched out a strategy for enabling Afghanistan security forces to take over increased responsibility for the country within five years. Cameron also said separately, in a television interview, that there will likely be no British troops in Afghanistan five years from now.
Obama began his day by concluding that so-called G-8 a summit at a resort in Canada's forested Muskoka lakes region, then flew to Toronto for a second, expanded summit of the Group of 20 nations. Those larger meetings, mostly being held on Sunday, were getting underway with a dinner.
In between, Obama was meeting with important foreign counterparts one by one on the sidelines, including Cameron, South Korean President Lee Myung-Bak and Chinese President Hu Jintao.
The meeting between Obama and Cameron was given a collegial feel after the president gave his British ally a ride back to Toronto on his specially outfitted presidential helicopter. "He threatened to send me a bill," Cameron joked. "But I said times are very tight in the U.K., so I'll have to take that as a free lift."
There was more joshing surrounding their bet over the U.S.-England soccer match in the World Cup, which ended in a 1-1 tie. So each gave the other a beer: "Goose Island 312," brewed in Chicago, from Obama to Cameron, and "Hobgoblin" from the British leader back. They clinked glasses and said "cheers."
The two had been expected to address the difficulties that the BP oil spill in the Gulf of Mexico has introduced into the American-British relationship. BP, a British-based company, has come under fierce criticism from Obama and others in the U.S. since a rig it was leasing exploded on April 20, causing the biggest offshore oil spill in U.S. history.
Although the oil continues to gush into the water, deepening the crisis, neither leader mentioned the topic when the two briefly addressed reporters after their hourlong session. And they took no questions, although most that were shouted at them concerned the BP catastrophe.
Filed under:
Government
Tags:
Afghanistan
,
Asia
,
Barack Obama
,
Canada
,
Central Asia
,
Lee Myung-bak
,
North America
,
Obama
,
Ontario
,
Toronto
,
United States
,
World cup