John Edwards Gets Engaged To Rielle Hunter?
By Naiwrita Sinha, Gaea News Network
Friday, January 7, 2011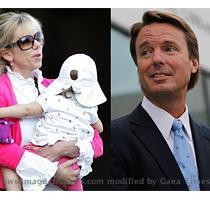 RALEIGH (GaeaTimes.com)- It has been barely three weeks since Elizabeth Edwards passed away but reports are already claiming that John Edwards has proposed to his longtime mistress Rielle Hunter. According to reports, this is the latest news that has taken entire North Carolina by storm. A sources close to the couple revealed that they are likely to exchange marital vows this summer although the date has not yet come up, reports say. However, there has been no official confirmation of the news.
The affair between John Edwards and Rielle Hunter is one that sparked a heavy controversy after the former U.S. Presidential candidate accepted in public that had an extra-marital affair with the campaign worker while also admitting that he fathered their lovechild. The two have a baby daughter named Quinn. After news broke out that the ex-Senator of North Carolina was having an affair with Rielle Hunter who was his campaign videographer, John Edwards had initially tried to keep the extra marital under the wraps. However, it did not prove much beneficial and subsequently he admitted of his illegitimate relationship with Rielle Hunter. Following this incident Elizabeth Edwards split from him. Elizabeth Edwards broke her marriage of 32 years to the former senator in January last year.
John Edwards and Rielle Hunter had actually started seeing each other since 2007. It was undoubtedly a difficult phase for his former wife Elizabeth Edwards after she became aware of her husband's affair at a time when she was battling breast cancer. There have also been reports shooting up that John Edwards had introduced his long time mistress with his three children and ex-wife Elizabeth Edwards before she passed away on December 7, 2010.