Groups to rally "don't ask, don't tell" to the U.S. Capitol
By Avik, Gaea News Network
Friday, December 10, 2010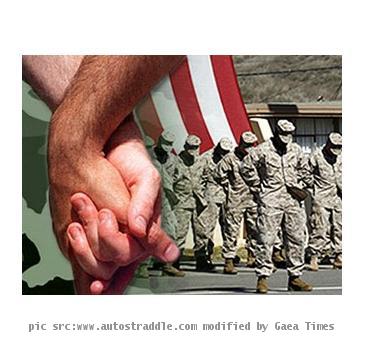 more images
WASHINGTON (GaeaTimes.com) — Gay right groups have decided upon rallying their views near the U.S. Capitol with new hope.
According to the the Servicemembers Legal Defense Network,
The Senate and the president must remain in session and in Washington to find another path for repeal to get done in the lame-duck
The Senate on Thursday rejected a Democratic bid to open debate on repealing the policy. Thus the slightest of hopes for the bill being passed in the current congressional session has been brutally assassinated. But the groups haven't lost faith and are willing to standby their cause.
Plannings are on regarding raising the issue again in a separate piece of legislation. The Democratic caucus has 58 members need atleast two more candidates joining there cause to claim a majority count of 60.
Republican Sen. Susan Collins of Maine stated,
I am perplexed and frustrated that this important bill is going to become a victim of politics. We should be able to do better.
In a statement President Barack Obama said that he was "extremely disappointed that yet another filibuster has prevented the Senate from moving forward" with the defense authorization measure that includes the repeal provision.
He also added,
While today's vote was disappointing, it must not be the end of our efforts, I urge the Senate to revisit these important issues during the lame-duck session.