Obama backing for India splashed across US media
By Arun Kumar, IANS
Tuesday, November 9, 2010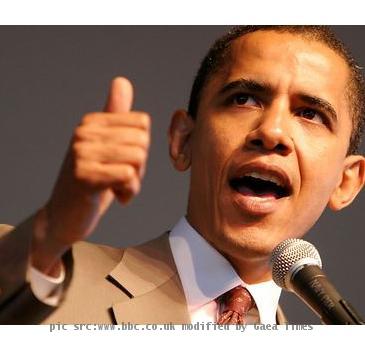 WASHINGTON - US President Barack Obama's support for India's bid to become a permanent member of the UN Security Council has been splashed across the US media on the front pages Tuesday.
But a number of stories, including all three TV network reports, also highlighted the president's remarks on how his trip was helping to create jobs at home.
Overall, most accounts of Obama's day in India presented him in a favourable light, after the battering his Democratic Party
received in the mid-term poll.
The Washington Post said: "India's quest for a seat would face particular opposition from China."
USA Today, however, suggested that "analysts played down the significance of Obama's support for an Indian council seat".
The Los Angeles Times similarly noted: "The nation likely won't attain permanent council status anytime soon" but "the promise fulfils India's top priority on the agenda of Obama's visit".
The Washington Times noted that in his joint press conference with Prime Minister Manmohan Singh, "Obama stressed that increased trade with India will not come at the expense of US workers, stressing the partnership as a 'win-win' for both countries".
The New York Times noted that while Obama wooed India with promises of increased trade and UN clout, First Lady Michelle Obama's "charm offensive has included serial hugs and a talent for Indian dance.
"The combination has been an unexpected success," as "an Indian public and news media that were lukewarm before the official three-day visit began on Saturday have since become exuberant" fans of the First Lady, it said.
Obama drew applause in parliament by backing India for a permanent seat on the UN Security Council, the CBS Evening News noted. "His other big announcement was meant for the audience back home and it involved jobs for Americans."
NBC Nightly News reported that the president "wants to tap into" India's "growing economic power to create jobs back home".
(Arun Kumar can be contacted at arun.kumar@ians.in)