Lauren Booth Converts To Islam
By Madhusmita, Gaea News Network
Monday, October 25, 2010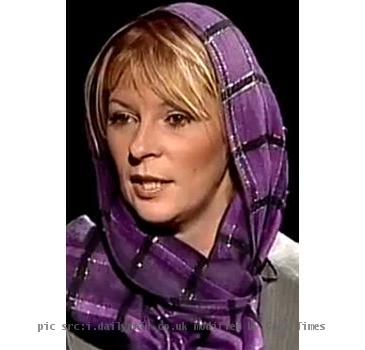 more images
LONDON (GaeaTimes.com)- The renowned broadcaster and journalist Lauren Booth has converted to Islam after having her spiritual awakening in Iran. Lauren Booth opposed Iraq war and she has recently criticized her brother-in-law Tony Blair accusing of him being biased towards Islam religion.
Lauren Booth in one of her interviews to a reputed media source said that she now wears 'hijab' head covering when she goes outside, she prays five times a day and at the same time whenever she finds time, she visits local mosques. The Press TV reporter said that she decided to become Muslim six weeks before after she visited shrine of Fatima al-Masumeh in the city of Qom. and she feels that it is an absolute "bliss and joy". After returning to Britain, she converted to Islam. She said that she reads Quran every day and is trying to quit alcohol as well. She said that she has not touched drink for 45 days, which she claims to be the longest time in 25 years.
Lauren Booth also said that she does not know where her spiritual journey will land her. She admitted that she had always been "impressed" with the "strength and comfort" of Islam. Lauren Booth's step towards Islam has received attention. Some saw it on a favorable note as a web portal stated that "war criminal" Tony Blair has an "innocent" sister-in-law, while another wrote that she is just craving for attention. However, the human rights activist said that she always thought "Ummah" is a peaceful place and she feels proud to be a member of Muslim community. Lauren Booth is the half-sister of Tony Blair's wife Cherie Blair.