Bombshell Revelations: Barack Obama has Intense Connections with CIA!
By Avik, Gaea News Network
Thursday, August 19, 2010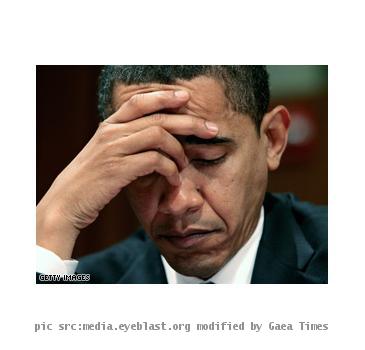 more images
WASHINGTON (GaeaTimes.com) — Watch Barack Obama being exposed live on the Alex Jones Show on THURSDAY AUGUST 19 at 1 PM EST / 12 NOON CST.
Reportedly, Investigative journalist Wayne Madsen will reveal his groundbreaking series on Barack Obama's true origins tomorrow. Madsen claims to have done detailed research work and is sure to unfold some untold episodes of the Presidents life.
Barack Obama allegedly holds strong bonds with the CIA and other major intelligence community. Former NSA employee Madsen has come up with a three-part extensive content with conclusive proof and documentation to back up his statement.
The rare rise of Obama into power can now be reasoned by his connections with the various intelligence sectors. It was quite normal of him eradicating all records after being elected. But still, truth can never be hidden nor can one hide from it.
This exposal is supposed to make a huge impact on world politics. The role of the intelligence communities as 'king maker' is sure to surprise you. It is now being thought as a long-term strategic plan to recruit promising candidates into intelligence and steer these individuals and their families into positions of influence and power.
Other incidents to barrack this theory are that former British Prime Minister Tony Blair was recruited into MI5 before becoming a Labor leader, or that George H. W. Bush not only became CIA director in 1976 but had a deeper past in the organization.
Madsen dug up CIA files that document the agency's connections to institutions and individuals figuring prominently in the lives of the President and his mother, father, grandmother, and stepfather.
This lights up the dungeons of politics and reveals to the common people the darker facets of the system. Can't hold your breath? Then, have a look at Wayne's complete work to know more interesting facts about Barack Obama and American Politics.
Filed under:
Diplomacy
,
Featured Article
,
Government
Tags:
Alex Jones Show
,
American Politics
,
Barack Obama
,
Bombshell: Obama
,
CIA
,
MI5
,
NSA
,
Tony blair
,
United States
,
Wayne Madsen