Tony Blair's Memoir Becomes Political Bestseller
By Reema, Gaea News Network
Sunday, September 5, 2010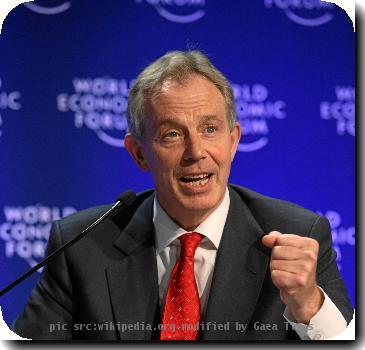 more images
LONDON, UNITED KINGDOM (GaeaTimes.com)- "A Journey", a memoir penned by the former British Prime Minister Tony Blair is selling like hot cakes. Tony Blaire's memoir that has only been released last week has already become the fastest selling political memoir in the publishing history. Although the content of the book has provoked anger and protests among many communities, "A Journey" is being counted among one of the all-time political bestsellers.
Former British Prime Minister Tony Blair's "A Journey" is a memoir of his political career as the Prime Minister of a country that played a major role in Iraq War. Tony Blair was elected in 1997 as the British Prime Minister after registering a historical lead over the opponent. The Conservative government went on to reign for eighteen years at the Prime Minister's office during which it had to battle issues both at home and in international circuit. In the book, Tony Blair not only recounts his tenure as the Prime Minister of Britain but also discusses issues that led to his downfall. However, through "A Journey" Tony Blair once again tries to defend the government's stand in the issue of Iraq War.
In the memoir, Tony Blair mentions that it would be a lie if he says that he did not feel sorry for the loss of lives that occurred due to the country's participation in the Iraq War, but at the same time adds that if asked whether he regrets his decision or not, the answer would be "No". Tony Blair said "I take responsibility for it, but I can't regret the decision".