India duty-bound to implement UN Tehran sanctions: Experts
By IANS
Friday, June 11, 2010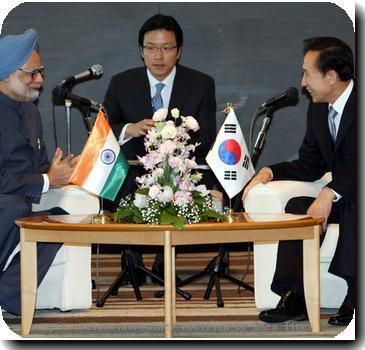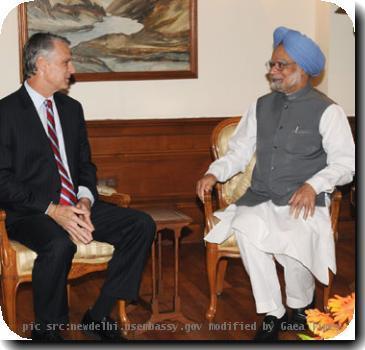 NEW DELHI - India may have reservations about the West's strategy of dealing with Tehran's nuclear programme, but it has no choice but to implement the latest UN sanctions, said officials and experts here.
"Being a responsible member of the UN and a member of the International Atomic Energy Agency (IAEA), India will have to implement the UN resolution," an official source told IANS Friday.
This should, however, not mean that India is one with the West on its way of dealing with Iran, the source pointed out. On the contrary, India has always advocated dialogue and diplomacy to resolve the standoff over the Iranian nuclear programme, suspected of developing atomic weapons.
Agreed K. Subrahmanyam, a noted strategic expert: "We are bound to accept the UN resolution," he said.
However, Subrahmanyam felt that India should go beyond just formally implementing the UN resolution and tell the Western powers about the compulsions and imperatives driving Iran to pursue an allegedly atomic weapon option.
"Iran is worried about a Sunni nuclear weapon targeting it from both sides: Pakistan and Saudi Arabia. It has genuine security concerns and those need to be addressed," he said.
India, however, could be in a bind if the US and its allies in the European Union go ahead with unilateral sanctions - likely later this month - that plan to target Iran's energy sector as this has the potential to hurt New Delhi's energy security interests.
"We are not bound by the sanctions not approved by the UN. In case of the US sanctions, it will be up to India to decide," said Subrahmanyam.
Over the past few years, India has affirmed its commitment to enforce all UN measures against Iran since the UNSC announced the first set of sanctions aimed at ending Iran's nuclear defiance in 2006.
In November last year, India had backed an international resolution against Iran over its nuclear programme, but qualified it by saying it is opposed to "a renewed punitive approach or sanctions" and stressed the need for "keeping doors open for dialogue".
The US, on its part, is confident India would implement the tough new UN Security Council sanctions.
"I think India's record on implementation of previous Security Council resolutions has been an admirable one," US Under Secretary of State for Political Affairs William Burns told reporters in Washington Thursday.
"And I do expect that India, as its leadership has made clear publicly, will follow through and implement the new resolution," he said when asked if India and the US were on the same page on sanctions against Iran.
India, Burns noted, has voted three times in the International Atomic Energy Agency (IAEA) Board of Governors to hold Iran accountable for its failure to meet its international obligations.
Prime Minister Manmohan Singh has time and again underlined India's traditional ties with Iran and voiced opposition to sanctions that, in New Delhi's view, end up hurting the common people.
While India believes that a nuclear powered Iran is not in the interests of regional stability, it has consistently supported Tehran's right to peaceful uses of nuclear energy within the purview of the Nuclear Non-Proliferation Treaty (NPT).
The new sanctions target Iran's powerful Revolutionary Guards and include freezing the assets of 40 additional companies and organisations — 15 linked to the Guards, 22 involved in nuclear or ballistic missile activities and three linked to the Islamic Republic of Iran Shipping Lines.
The sanctions also bar Iran from pursuing "any activity related to ballistic missiles capable of delivering nuclear weapons", investing in nuclear-related activities like uranium mining and buying some categories of heavy weapons, including attack helicopters and missiles.