Kyrgyzstan turmoil prompts coordinated international response; new Kyrgyz leaders seek justice
By Yuras Karmanau, AP
Friday, April 16, 2010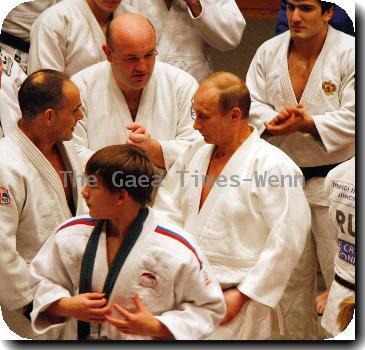 more images
New Kyrgyz leaders vow to prosecute ex-president
JALAL-ABAD, Kyrgyzstan — With the tremors of Kyrgyzstan's violent revolution subsiding, the country's provisional leader said Friday that her government will push for an international probe of the former president, who has fled the country.
Ousted leader Kurmanbek Bakiyev left Thursday for neighboring Kazakhstan on a flight arranged by the U.S., Russian and Kazakh leaders in an unusual joint mediation effort. The United Nations, the European Union and the Organization for Security and Cooperation in Europe also helped negotiate Bakiyev's departure, which eased fears of a civil war in the strategically placed ex-Soviet nation.
Bakiyev was driven from the capital, Bishkek, on April 7 after troops opened fire on protesters, who then stormed government buildings.
This mountainous country of 5 million bordering China hosts the U.S. air base at the capital's airport which provides refueling flights for warplanes over Afghanistan and serves as a major transit hub for troops. Russia also has a military base in Kyrgyzstan.
Interim leader Roza Otunbayeva said Friday that Bakiyev's departure, organized "with the help of our friends from other countries, was the only chance to avoid the escalation of violence, tensions and setting one part of the nation against another."
"We avoided clashes between different groups, and even regions of the republic," she said.
While allaying fears of renewed violence, Bakiyev's departure angered many in Kyrgyzstan who wanted him and his clan brought to justice for endemic corruption and allegations they ordered troops to shoot protesters.
Otunbayeva said her government would push for an international investigation of the violence. "Bakiyev won't evade justice," she said.
"If Kurmanbek Bakiyev has no plans to hide in the Tora Bora mountains of Afghanistan, the international community will find him and make him answer on behalf of the Kyrgyz people," said Otunbayeva's chief of staff, Edil Baisalov.
With the prospects of the interim government looking brighter after Bakiyev's departure, both the United States and Russia have cause to be satisfied.
"In Kyrgyzstan, U.S. and Russian interests clashed, but the Kremlin and Washington have managed to quickly come to an agreement and find a common solution," said Kyrgyz political analyst Mars Sariyev. "This is a positive sign that shows that the United States and Russia are able to cope with challenges and threats."
Otunbayeva has said that her government will extend the current agreement allowing the U.S. to use the Manas air base for another year after it expires in July. Operations at base returned to normal Thursday for the first time since the street disturbances that led to Bakiyev's ouster.
In Washington, State Department spokesman P.J. Crowley said Friday that the United States "will continue to assist Kyrgyzstan in developing its social, economic and security structures and is in discussion with the interim Kyrgyz government on how best to help the country return to a democratic path."
Speaking earlier this week on a trip to Bishkek, Assistant Secretary of State Robert Blake rejected suggestions that U.S. efforts to promote democratic standards had been lackluster under Bakiyev, — a charge that has prompted some to suggest the United States compromised on its human rights standards to maintain its strategic position in Kyrgyzstan.
"Human rights and democracy were a very important part of our agenda," Blake said.
But that assessment clashed markedly with the views voiced by Otunbayeva herself a few months ago, when she criticized U.S. indifference to what she then described as the "severe oppression" of opposition politicians. "We are falling down dramatically, and the United States doesn't care," she said in February.
Russia, which has jealously watched the U.S. military presence in what it considers its backyard, is seen as a beneficiary of the Kyrgyz unrest, which has boosted Moscow's influence over its former fiefdom.
Russian Prime Minister Vladimir Putin was the first foreign leader to offer support to Otunbayeva. Russia this week pledged $50 million in emergency aid and loans to the provisional government 25,000 tons of fuel to help with the spring planting.
Kyrgyzstan's economy is heavily dependent on the remittances sent back from by Kyrgyz migrant laborers working in Russia, and the nation's reliance on Russia is likely to strengthen under the new authorities.
Bishkek residents celebrated Bakiyev's departure outside the government headquarters, singing songs and congratulating one another. Many said they are tired of the disorder that has wracked their country for the last five years, since the 2005 Tulip Revolution that propelled Bakiyev to power amid a series of streets protests.
"We're sick of revolutions, we just want a quiet life," said 48-year housewife Rysgul Guisalova. "Kyrgyzstan won't survive another revolution."
Zhanybek Bakiyev, brother of Kurmanbek and former head of the presidential guard service, who is accused of ordering that shots be fired into a crowd of protesters on April 7 was still on the run as of Friday evening. Another brother, Kanybek Bakiyev, said Friday at the family compound in the southern Kyrgyz village of Teyit that Zhanybek has left the Bakiyev family home and was talking to "the people."
Kurmanbek Bakiyev's relatives submitted weapons to officials in Teyit on Friday morning, although it is unclear how much firepower the family may have had its disposal.
____
Karmanau reported from Bishkek. Associated Press writers Sasha Merkushev in Jalal-Abad, Leila Saralayeva in Bishkek and Desmond Butler in Washington contributed to this report.
Filed under:
Government
Tags:
As-kyrgyzstan
,
Asia
,
Bishkek
,
Central Asia
,
Eastern Europe
,
Europe
,
Jalal-abad
,
Kyrgyzstan
,
North America
,
Rebellions And Revolutions
,
Russia
,
United States
,
Vladimir Putin