Sonia Gandhi to visit northeast
By IANS
Wednesday, March 3, 2010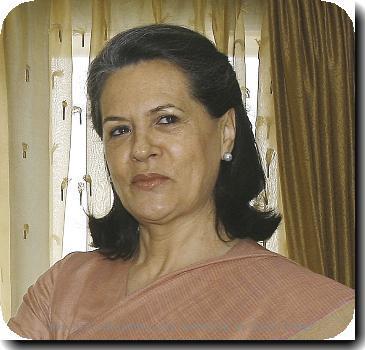 AIZAWL - Congress president Sonia Gandhi will be on a two-day tour to northeastern states of Mizoram, Meghalaya and Assam starting March 5, officials said here Thursday.
"Sonia Gandhi will arrive in Aizawl Saturday from Meghalaya capital Shillong via Assam capital Guwahati," a Mizoram government official said. Gandhi, who is also the United Progressive Alliance (UPA) chairperson, will visit Shillong Friday.
She is scheduled to lay the foundation stone of the Rajiv Gandhi Stadium Saturday at Mualpui, near the Mizoram capital, state Sports and Youth Services director Zoliana Royte told IANS here.
The stadium will be inside the headquarters complex of the third battalion of the Mizoram Armed Police (MAP).
The Central Public Works Department (CPWD) is constructing the 20,000 seat stadium in the mountainous state. The 12th finance commission had granted Rs.250 million for the Rs.1.32 billion project.
In Shillong, she will inaugurate the North East Indira Gandhi Regional Institute of Health and Medical Sciences (NEIGRIHMS), the first super-speciality hospital in the northeast.
The Congress president will also lay the foundation stone for the Rajiv Gandhi Congress Bhavan in Shillong and address a public gathering at the Polo Ground there.
"From Shillong, Sonia is likely to visit Guwahati where she will meet Assam Chief Minister Tarun Gogoi and Congress leaders from different northeastern states," the official stated.
– Indo-Asian News Service