Iran is becoming a military dictatorship: Clinton
By IANS
Monday, February 15, 2010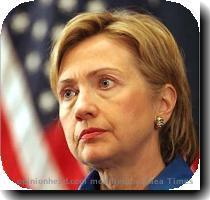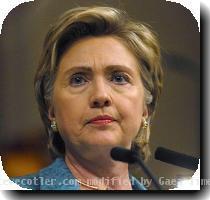 KUWAIT CITY - US Secretary of State Hillary Clinton has warned that Iran is "moving toward a military dictatorship", saying the top posts in the country are being "supplanted".
Speaking to students of the Carnegie-Mellon University branch in Doha Monday, Clinton said Washington is open to "engagement" with Iran, but, at the same time, it will not stand hand-folded towards its pursuit of a threatening nuclear programme, Xinhua reported.
"We are planning to try to bring the world community together in applying pressure to Iran through sanctions adopted by the UN that will be particularly aimed at those enterprises controlled by the Revolutionary Guard which we believe, in effect, supplanting the government of Iran," she said.
"We see that the government of Iran, the supreme leader, the president, the parliament, is being supplanted, and that Iran is moving towards a military dictatorship. Now, that is our view," she said in remarks posted on the US State Department website.
What Washington is trying to do is to send a message to Iran that "we still would be open to engagement, we still believe there is a different path for Iran to take", she said.
But, the world should be united in sending unequivocal message that "we will not stand idly while you pursue a nuclear programme that can be used to threaten your neighbours, and even beyond".
Asked if she meant there is no plan to attack Iran, Clinton said Washington is interested in changing Iran's behaviour.
"We have pursued dual track, not a triple track, but a dual-track approach of engagement and potential pressure and that is what we're focused on," she said.
Clinton also criticised Tehran over reluctance to cooperate with the international community and violations of its obligations under the Non-Proliferation Treaty and other UN resolutions.
"We see Iran being exposed for having a secret facility at Qom. We see Iran refusing an offer from Russia, the United States, and France to help it get the enriched uranium … We see the president of Iran ordering the nuclear programme to do its own enriching, and to begin to move toward the level of enrichment that certainly is troubling to us, because of what it well could be, with respect to nuclear weapons," she said.
She also voiced concern over Iranian regime's treatment of the opposition in the country.
"We are deeply concerned about the way Iran is treating its own people, and the way it has executed demonstrators, imprisoned hundreds and hundreds of people whose only offense was peacefully protesting the outcome of the elections," she added.
Clinton arrived in Riyadh from neighbouring Qatar later Monday as part of her Gulf tour.