General Vang Pao Funeral Rejected At Arlington National Cemetery
By Madhusmita, Gaea News Network
Saturday, February 5, 2011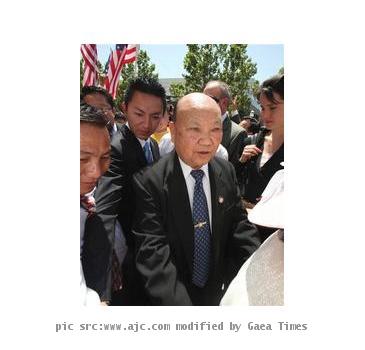 more images
FRESNO (GaeaTimes.com)- Thousands of mourners paid their last tribute to General Vang Pao at the first day of his six-day long funeral. However, the mourners were angered when the U. S. army announced that the General will not be given full military honors at Arlington National Cemetery. General Vang Pao passed away on January 6 owing to his complications of pneumonia. He was 81 years.
After the two hours funeral ceremony of General Vang Pao, one of his confidants told a reputed media outlet that U. S. Army have refused the General's burial at Arlington National Cemetery. Charlie Waters, who was general Vang Pao's friends and a military person told the media source that the U. S. Army officials called them to say that the committee refused the military honor of the general. However, he also said that General Vang Pao's family and friends are appealing to the White House for proper justice. Charlie Waters said that the army gave him "lame excuse" and no one can take way the respect and recognition of a veteran "American serviceman".
Ex-Royal Lao official, Khamphay Abbay said that the Laotian nation has lost its "outstanding" son with the unfortunate demise of General Vang Pao. William Dietzel, a friend of the Hmong leader, during the General's funeral said that people will remember Vang Pao forever for his "extraordinary service" in the "defense of freedom". Congressman Jim Costa said that the whole incident was "disappointing". On the other hand, Gary Tallman, the spokesperson of Pentagon told a reputed media outlet that the committee has rejected the burial of General Vang Pao because the members found out that he did not meet the criteria.