WikiLeaks: Rahul Gandhi's Comments Create Controversy
By Madhusmita, Gaea News Network
Saturday, December 18, 2010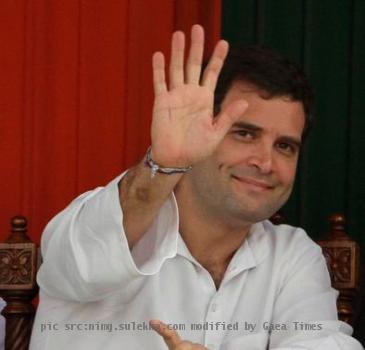 more images
NEW DELHI, INDIA (GaeaTimes.com)- Indian National Congress landed itself in hot water after WikiLeaks quoted Rahul Gandhi's version of terrorism in India. The recent WikiLeaks documents show that Rahul Gandhi said that Indian Hindu extremists can be greater threat to India than other terrorism groups. Bharatiya Janata Party (BJP) has vehemently criticized this statement and the leaders are of the opinion that the radical Hindu groups of India have been targeted through this statement. However, Indian National Congress released a statement on behalf of the Rahul Gandhi, which states that communalism and terrorism is a threat to India and the Congress General Secretary wanted to mean this through his statement.
On the other hand, Congress officials have said that WikiLeaks statement is a conspiracy against the party and its leaders. However, WikiLeaks website cable showed that Rahul Gandhi is talking to US Ambassador Timothy Roemer and telling him that Hindu terrorists are a bigger threat than "Lashkar-e-Taiba". The website also reads that Rahul Gandhi has warned and said bigger threat of the nation might be the growth of Hindu groups, as these groups create political confrontations and religious tensions with the Muslim community. However, Manish Tewari, the spokesperson on Indian National Congress said that India needs to remain "vigilant" against all kinds of terrorism.
Bharatiya Janata Party spokesman Prakash Javdekar said in his statement that by calling Hindu groups more dangerous than Lashkar-e-Taiba, the General Secretary of Congress has proved that he has a "sick mind". However, when asked about the whole incident, Rahul Gandhi declined to comment and said that he would speak to the media later. WikiLeaks has sparked off lot of controversies in countries across the globe recently.