Shanksville, Pennsylvania Visited By Michelle Obama
By Reema, Gaea News Network
Sunday, September 12, 2010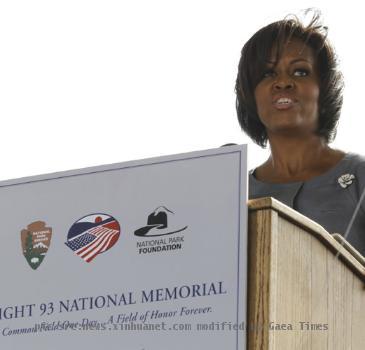 more images
SHANKSVILLE (Gaeatimes.com)- On Saturday, marking the 9th anniversary of the horrific 9/11 terrorist attack at the World Trade Center, first lady Michelle Obama and former first lady Laura Bush addressed a gathering at the temporary United Airlines Flight 93 site in Shanksville, Pennsylvania. In a rare joint public speaking appearance by the two first ladies of the country, both tried to highlight the heroism of the passengers of the fateful Fight 93 and the spirits of America that has not only sustained the burn but also emerged more stronger.
Addressing the families of the 40 victims who were killed when the hijacked Flight 93 crashed in the western Pennsylvania's Shanksville region, first lady Michelle Obama said that people visiting the site will see how "a scar in the earth has healed" implying the deep scar that the terrorist attack tried to create in the mind and heart of American citizens. The first lady referred to the victims as true heroes whose lives and sacrifices in the times to come will inspire many others. Michelle Obama maintained that she is not visiting the site and addressing the Shanksville gathering as the first lady of United States but as the person who is driven by a sense of awe at the heroism of the country's fellow citizens.
Former first lady Laura Bush, on her part mentioned that nine years ago in the skies above the fields of Shanksville, Washington and New York, the American citizens not only witness its worst enemy cause plunder but also saw good at the heart of the country. She befittingly mentioned that the terrorist attack failed to shatter the deepest belief of in democracy.