ETA Ceasefire Dismissed By Spanish Government
By Swatilekha Paul, Gaea News Network
Monday, September 6, 2010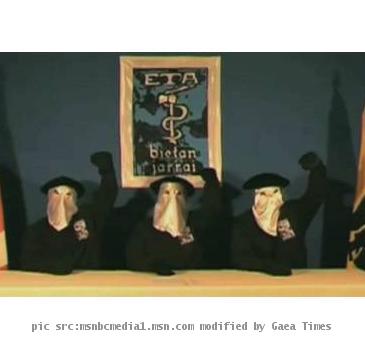 more images
MADRID, SPAIN (GaeaTimes.com)- The Spanish government had dismissed a ceasefire that was announced by the Basque separatist group ETA on Sunday, describing the ceasefire as 'insufficient.' The interior minister of the country Alfredo Perez Rubalcaba was the first to make an official comment on the matter when he added that the group was now weaker than ever while also pointing out that the police authorities would continue to nab the militants hailing from the Basque separatist group.
The separatist group ETA revealed through a video statement that in which three masked militants said that the group would not be involved in armed struggles from now on. However, the announcement made by ETA has not been welcomed by the Spanish government given the fact that the militant group has declared ceasefire twice in the past but each time has failed to stick to its words in both the occasions. It still remains unclear whether the ceasefire that has been announced by the Basque militant group is permanent or they might abandon it later. While responding to the ceasefire that has been declared by ETA, the interior minister further added that the declaration made by the separatist group cannot be trusted as they have broken many ceasefire in the past while also hinting that the time to initiate a dialogue has already passed.
In the statement that has been released by ETA, one of the three masked man defends the violent campaign of the separatist group. He goes on to emphasize that the group mow wishes to attain its goal through peaceful means without resorting to violence.