Miliband brothers fighting each other for top Labour Party post in battle for soul of party
By Gregory Katz, AP
Friday, September 3, 2010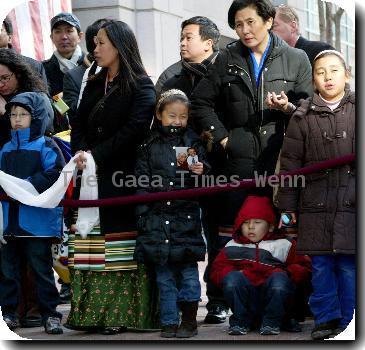 more images
Miliband brothers fighting for top Labour post
LONDON — Mom is neutral. Everyone else has an opinion.
The unusual spectacle of two brothers fighting for the soul of the defeated Labour Party — and the chance to challenge Prime Minister David Cameron in the next general election — has turned a ho-hum contest into a nailbiter.
Voting began this week, with former Foreign Secretary David Miliband seen as a slight favorite over his younger brother, former Energy and Climate Change Secretary Ed Miliband, and three other candidates. Results will be announced at the start of a party conference in late September.
The younger Miliband is running a maverick campaign, promising to bring the Labour Party back to its working class roots after the centrist, pro-business policies that brought Tony Blair and his New Labour cronies to power in 1997. He enjoys strong support from some vocal union leaders, who have an influential voice in the selection process.
"I'm the candidate most willing to turn the page in this election," Ed Miliband says on his campaign website, taking a subtle dig at his big brother, who represents the party Establishment.
He isn't attacking his older brother by name — they have promised to maintain family harmony if at all possible. But he has launched a scathing attack on New Labour leaders for endorsing "brutish" U.S.-style capitalism at the expense of the working man, accusing them of adopting the Conservative Party philosophy of letting the free market rule.
The youthful brothers physically resemble each other and have similar mannerisms. Both have a hint of gray in the same spot of their otherwise dark hair, and both cultivate an easy, approachable manner. David Miliband is more polished and experienced on the world stage — making a strong and favorable impression on Secretary of State Hillary Clinton and others at summit meetings.
Their Jewish parents escaped from Poland at the height of the Nazi terror. The late Ralph Miliband was a prominent leftwing academic and author; his wife Marion, now 75, has never commented publicly on the horrors she faced as a child, when she went into hiding after her father and other close relatives were sent to the death camps.
She is close to both sons and has not spoken about their political rivalry. David Miliband, 45, said at one campaign event that his mother is backing Diane Abbott — the only woman in the race, which also includes former ministers Ed Balls and Andy Burnham. He then quickly explained that he was joking.
Most insiders believe David Miliband is ahead of his brother. But the results are hard to predict because of a complicated system that allows voters to rank the five candidates in order of preference. As a result, a candidate who is named as the second choice by a large number of voters could end up with the job.
Ed Miliband, 40, has scored points with unions by criticizing New Labour for failing to create enough new jobs and for doing little to lessen the gap between rich and poor. He also says New Labour's foreign policy — shaped in part by his brother — made Britain too reliant on the United States at the expense of its values.
The bitter internecine battle delights some Labour Party opponents who sense a party split that won't easily be papered over.
"They are indulging in fratricide," said Bernard Ingham, a Conservative Party stalwart who served as press secretary to former Prime Minister Margaret Thatcher.
He was referring not only to the Milibands' battle, but to former Prime Minister Tony Blair's decision to go public this week with his criticism of his successor, former Prime Minister Gordon Brown. Blair says in his newly published book that Brown has "zero" emotional intelligence.
Blair said that Thatcher reshaped Britain's political landscape during her long years at 10 Downing Street, breaking the entrenched power of the unions, and forcing Blair, Brown and their inner circle to come up with a "New Labour" approach that filched heavily from Thatcher's playbook.
Now that New Labour has been defeated, the party is rudderless, Blair said. Still, he predicted that David Miliband would likely emerge as party leader despite his close ties to Blair and other key New Labour figures.
The vote is open to party members, Labour legislators, and members of unions affiliated with Labour.
Unions remain an important part of the party base — though they have less raw power than in the past — and at least one union leader backing Ed Miliband has warned publicly that unions will withhold financial support if Labour chooses a "more of the same" approach.
David Miliband does enjoy the backing of the Labour Party elite. He has been endorsed by 11 members of the "shadow Cabinet" — a British institution that gives the opposition party a chance to speak out on policy matters. He has the backing of former Foreign Secretary Jack Straw, former Chancellor Alistair Darling and other prominent figures.
"Most of our members of Parliament are supporting David," said Ann Clwyd, a Labour Party legislator from Wales. "I've worked with him closely, and I think he's young but of considerable stature. He's known to the world as foreign secretary and he gave a good account of himself."
She said David Miliband would be a credible candidate for prime minister if an early election is called in the coming months.
Clwyd said the two brothers seem to be getting along despite speculation of a rift.
"It's quite difficult," she said. "No much how much you say you love your brother."
Filed under:
Government
,
International Relations
Tags:
Big brother
,
England
,
Europe
,
Foreign Policy
,
Hillary Clinton
,
London
,
Relationships
,
Siblings
,
United Kingdom
,
Western Europe