A. Raja Arrested
By Madhusmita, Gaea News Network
Thursday, February 3, 2011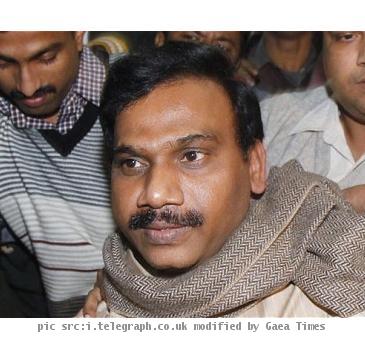 more images
NEW DELHI, INDIA (GaeaTimes.com)- Former telecommunication minister of India and member of Dravida Munnetra Kazhagam party, A. Raja has been arrested on Wednesday. The Central Bureau of Investigation (CBI) reported that they have arrested the former telecommunication minister as a part of their investigation for a multi-billion corruption scandal (the 2G spectrum scam). R.K. Gaur, the spokesperson of Delhi police confirmed the news to the media. A. Raja was forced to resign from his post back in November after police found out that he sold 2G spectrum licenses at a much lower price. However, he denied all the charges against him.
The investigators reported that the phone licenses had cost the taxpayers an estimated $40 billion loss in their revenue. Dravida Munnetra Kazhagam party's spokesperson told a reputed media outlet that A. Raja's arrest would not affect the party's relation with Indian National Congress. CBI has also arrested former telecommunication secretary Siddharth Behuria and A.Raja's aide RK Chandolia to interrogate. CBI has accused A.Raja of issuing 2G licenses in a "first come first serve" basis. The authorities say that the former Union Communications and Information Technology Minister should have auctioned them instead of selling.
The Supreme Court has previously pressured the Government along with Prime Minister Manmohan Singh to take step against the 2G scandal and also A. Raja. Supreme Court judge A.K. Ganguly told a reputed media outlet that the former telecommunication minister, A.Raja has changed the rules of selling 2G licenses "arbitrarily" and steps should be taken against him. A reputed media outlet reported that Indian National Congress part chief Sonia Gandhi and Prime Minister has promised that the everyone, who are found guilty in the 2G license sales will surely be arrested and punished.