Prime Minister Of Italy Prostituted Young Women
By Reema, Gaea News Network
Tuesday, January 18, 2011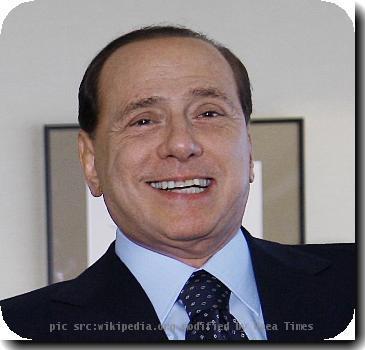 more images
MILAN, ITALY (GaeaTimes.com)- It has been alleged that Prime Minister Of Italy, Silvio Berlusconi, has kept about fourteen young women, as his mistress, in some of his posh residences, all over his home town Milan. Most of these young and attractive women are from the world of glamor as reported by the media.
After the media reports, Italian investigators lodged a formal request to the parliament to search Giuseppe Spinelli's office, where they think, they can get hold of some of the written and formal evidences of "cash payments", to the girls, in order to keep them as his permanent kept. The prosecutors affirmed that there are many evidences that would prove that several women were paid with a good amount of cash, and turn them onto Silvio Berlusconi's mistresses. According to the prosecutors, all these girls were kept in a rent free apartment, in Milano. Therefore, they are seeking for a permission to raid some the properties and offices of Prime Minister Of Italy.
One of these girls, is a Moroccan night club dancer "Ruby the Heart Stealer", who reportedly slept with the Prime Minister Of Italy, last year when she was 17. When asked about the matter, she said that last year she received 7,000 euro, and went to his Valentine's Day soiree with Silvio Berlusconi. That was because, she was undergoing a financial trouble. However, another teenager, Karima El Mahroug said that she got 6,000 from his, but did not have sex. Even Silvio Berlusconi, refuted all these allegation and said that it is all "Groundless and laughable". However, the investigative authorities are all under a strong believe that there are several other girls, whom the prime ministers have bought for having sex. Some of them are Nicole Minetti, a 25 year old showgirl; Francesca Pascale, a TV starlet; Federica Gagliardi and Graziana Capone.