Ron Reagan Releases New Book
By Madhusmita, Gaea News Network
Saturday, January 15, 2011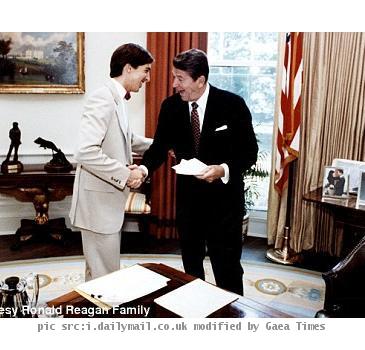 more images
NEW YORK (GaeaTimes.com)- Former California Governor and U. S. President Ronald Reagan's son Ron Reagan has released a new book in the loving memory of his father. In his new book, Ron Reagan has suggested that his father had signs of Alzheimer's disease while he was the President of United States. The book, "My Father At 100″ would be available in stores from next Tuesday.
Ron Reagan stated that he had seen no evidence suggesting that his father was aware of his disease while he was in the White House. However, he believes that Ronald Reagan would have left his position if he was diagnosed with the disease before the end of his term in the office. Ron Reagan narrated the whole incident of how his father was diagnosed with the disease and how it changed his life in his book. The excerpts of the memoir is released by a reputed media outlet. Ron Reagan stated in his book that it was during 1984 and 1986 that his father showed the first signs of Alzheimer's disease as he used to forget the names of many people he used to work with.
Ronald Reagan was diagnosed with Alzheimer's disease in 1994 and he passed away in 2004 owing to the complications of the disease. On the other hand, Ron Reagan's new book has sparked many controversies before its release as the youngest son of the former President claimed that his father suffered from Alzheimer's disease while he was in White House. Ronald Reagan Presidential Foundation denied the whole claim through a statement where it was stated that Ronald Reagan's physicians and people who worked with him everyday have researched on the matter and found out that the former President was not affected with Alzheimer's disease while he was serving his term.