Reince Priebus Replaces Michael Steele
By Madhusmita, Gaea News Network
Saturday, January 15, 2011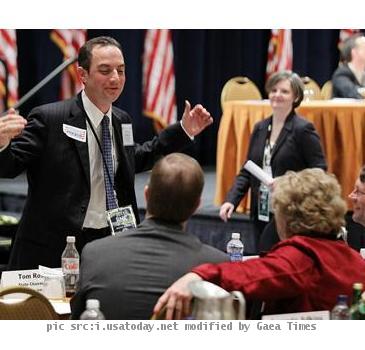 more images
MADISON (GaeaTimes.com)- On Friday, the GOP leaders ousted its controversial chairman, Michael S. Steele and selected Reince Priebus. The new chairman previously served as the general counsel of the Republican National Committee. He was voted as the new chairman of the party after Michael Steele lost his bid, after seven rounds of voting, for a new two year term. One of the prominent reason, for which Michael Steele lost his position is that the former chairman's two year tenure was marked by verbal altercation, $20 million debts and high spending and it seems that Republican Party members are not ready to take any chances for the 2012 election. Reince Priebus secured 97 votes from 168 party members.
Reince Priebus thanked all his party members and acknowledged the fact that they have given him a huge responsibility. At the press conference, the new RNC chairman said that the Republicans have realized that the Democratic Party has taken the whole nation to a wrong path but 'together', the Republicans would restore peace and harmony in the country. He told all his party members that together they can beat President Barack Obama in the 2012 election. However, he also added that his party members would have to work "together as a committee" to defeat the President in the upcoming election.
Steven Law, the president of American Crossroads addressed the recent development of GOP and said that the next two years are crucial for the Republican Party members and they have made a right decision by electing Reince Priebus as their chairman. The newly appointed chairman said that the GOP needs to raise money and "rebuild" their credibility to come out with flying colors. Michael Steele, on the other hand, said that he knows his party want to do something different now and hence it is the best time for him to step aside.