David Thompson Passes Away
By Madhusmita, Gaea News Network
Sunday, October 24, 2010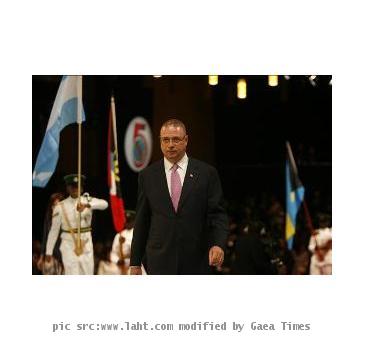 more images
MAPPS, ST. PHILIP (GaeaTimes.com)- The Barbados Prime Minister David Thompson passed away at his home in Mapps, St. Philip yesterday after battling with pancreatic cancer. His death was confirmed by his family and the Government of the Caribbean Island. David Thomson was survived by his wife, Marie-Josephine Mara and his three daughters Mischa, Oya, and Osa-Marie.
David Thompson's wife Marie-Josephine Mara told in her statement that Barbados has lost a"loyal" son and its faithful servant before her husband had time to realize his dreams. Reverend David Durant said that David Thompson battled against cancer "valiantly" and died peacefully. The Deputy Prime Minister Freundel Stuart was sworn in as a replacement of David Thompson yesterday, hours after his demise. David Thompson was receiving chemotherapy at a hospital in United States from last September after his health deteriorated. Marie-Josephine Mara told a reputed media source that the people of Barbados "enjoyed" and "endured" his public service experiences.
Denzil Douglas, prime minister of St. Kitts and Nevis expressed his condolence at the demise of Prime Minister by saying that David Thompson's death has not only affected the people of Barbados but also all the Caribbean people. The United States also offered its condolence where the Secretary of State Hillary Clinton expressed her deepest condolences on behalf of President Barack Obama to the people of Barbados. She also said that she hopes with new leadership Barbados' friendship with the United States will continue to grow. Hillary Clinton said that Barbados has lost a leader and the nation of America has lost one of its valuable partner and friend. David Thompson became the Prime Minister of Barbados in 1991.