Jesse Jackson Jr. Reacts To Allegations
By Tias, Gaea News Network
Wednesday, September 22, 2010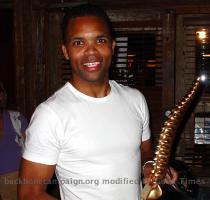 more images
CHICAGO (GaeaTimes.com)- Jesse Jackson Jr has found himself in the hot seat recently due to allegations of trying to buy out a senate seat from the former governor Rod Blagojevich. Rod Blagojevich who is already at the center of the corruption charges might not feel much further impact with the latest reports, but the allegations have landed a severe blow to the political ambitions of Jesse Jackson Jr as he will run for the position of Mayor in some months. Adding insult to injury to the ongoing scandal is the news of the congressman's extra-marital affair with the Washington based model Giovanna Huidobro.
Jesse Jackson Jr's earlier reaction to the investigations by the FBI on him created a stir by itself. He almost challenged the investigation bureau on the radio. In spite of his constant denying of any involvement with Rod Blagojevich's auctioning of senate seats, Jesse Jackson has been the center of media attention over the week. One of the people who raised funds with him and was his close associates, Raghuveer Nayak told the media that he was asked to divert some of the funds to the former Illinois governor. He has also admitted that he booked tickets twice for Giovanna Huidobro from Washington DC to Chicago.
Jesse Jackson Jr spoke to the media about the scandal involving the woman from Washington and said that it was a private matter that was solved by him and his wife months back. The scandal provides a great opportunity for Isaac Hayes to rip apart his opposition. He emphasized the statements of Raghuveer Nayak who said that he was specifically asked to bribe Rod Blagojevich.