Share intelligence, repatriate Reangs: Chidambaram (Lead, With images)
By IANS
Tuesday, May 25, 2010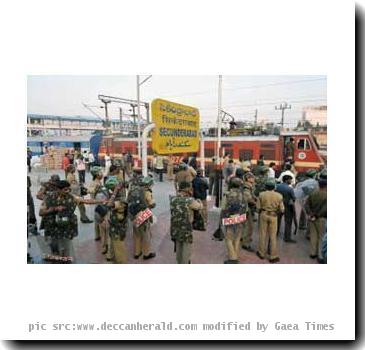 AIZAWL - Union Home Minister P. Chidambaram Tuesday asked northeastern states to share intelligence on terrorism, officials here said. He also urged the Mizoram government and tribal leaders to help repatriate 37,000 Reangs who have taken refuge in Tripura.
"For better intelligence sharing and coordination between the police forces of different northeastern states, the union home minister urged the state governments of the region to make use of the Subsidiary Multi-Agency Centre (SMAC) at Shillong," an official told reporters.
He also reviewed the progress of work on India-Bangladesh border fencing.
"The home minister also suggested that Mizoram appoint a senior officer to resolve all issues regarding claims for compensation to families affected by the fencing. The Border Security Force (BSF) would be instructed to take the state administration into confidence on all border fencing issues," the official added.
Chidambaram accompanied by Home Secretary G.K. Pillai and other senior home ministry officials flew to Aizawl Tuesday morning and held a series of meetings with Governor M.M. Lakhera, Chief Minister Lal Thanhawla, his cabinet colleagues and top security and civil officials to review the security situation and other issues.
Chidambaram also discussed with Lal Thanhawla the progress of border fencing, rehabilitation of people affected by the border fencing and border trade with neighbouring Bangladesh and Myanmar.
The mountainous northeastern state of Mizoram has a 722-km international boundary. Most parts of the borders are in hilly terrain, remain unfenced and are porous.
Chidambaram has asked the Mizoram government and tribal leaders to help repatriate all the 37,000 Reang tribal refugees, who have been sheltered in six Tripura camps for 13 years, to their ancestral villages.
The home minister also met the leaders of Reang tribals before leaving for Guwahati in Assam. The Reang tribals, locally called 'Bru' are originally from Christian dominated Mizoram.
"Chidambaram has asked the tribal leaders to repatriate all the refugees from Tripura by October this year and requested the Mizoram government to extend all facilities and rehabilitate home-bound tribals," the official said.
"What would be the future of your children if you do not live in peace with the Mizo people majority in Mizoram," Chidambaram asked the tribal leaders.
On the advice of the union home ministry, Mizoram last week started taking back around 1,200 tribal refugees from relief camps in northern Tripura where they have been living since November last year after fleeing ethnic clashes in their state.
The refugee repatriation (in three batches) to Mamit district in western Mizoram ends Wednesday.
However, the fate of more than 36,000 refugees who fled Mizoram 13 years ago hangs in the balance.
Chidambaram was to meet the tribals and district officials in Mamit district, adjoining Tripura, in connection with resettlement of the displaced Reang tribals. But his trip has been cancelled due to lack of time.
Refugee leader Elvis Chorkhy, who is also president of the Mizoram Bru Displaced People's Forum (MBDPF), said: "We shall observe the repatriation and subsequent resettlement of tribal refugees in their villages and then we shall decide the repatriation of the remaining evacuees."