Congress-Trinamool alliance for civic polls jeopardised
By IANS
Saturday, May 1, 2010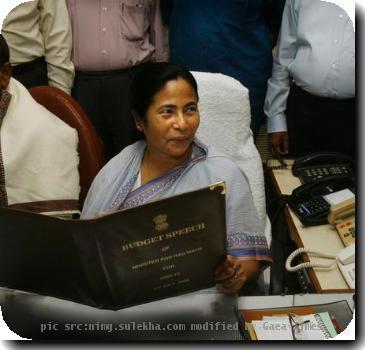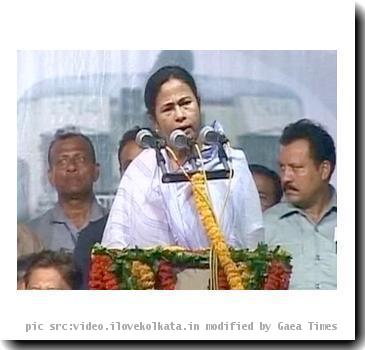 KOLKATA - The alliance between West Bengal's anti-Left Front opposition for the May 30 Kolkata civic polls was jeopardised Saturday after the Congress released a list of 88 candidates and the Trinamool Congress decided to contest in all the 141 wards.
In what must have been music to the ears of the Communist Party of India-Marxist (CPI-M)-led Left Front, the Congress announced its list of candidates two days after Mamata Banerjee's Trinamool Congress declared nominees for 115 seats.
The earlier Trinamool list had left one seat for the Socialist Unity Centre of India (SUCI) and 25 for the Congress.
But after the Congress list came out Saturday, the Trinamool Congress decided to contest in all the 141 wards.
The Congress, negotiating with the Trinamool Congress on seat adjustment for the civic polls, had demanded 51 of the 141 wards in the Kolkata Municipal Corporation (KMC).
Banerjee initially agreed to give 21, but then left out four more. However, peeved Congress leaders claimed that most of the seats left for them were "difficult" as the Left Front was seemingly invincible in those wards.
"We will have a friendly contest. The civic polls will not have any bearing on the alliance between the two parties at the national level," state Congress working president Pradip Bhattacharya told reporters at the party office.
"We were never found wanting in our efforts to come to an understanding with the Trinamool. We all wanted to come close to our alliance partner. However, I still want a joint fight against the CPI-M," he said.
"And I won't say there is no alliance between us. We have left 53 seats for the Trinamool," he added.
The Congress decided to go ahead with its unilateral list after four Congress district presidents of Kolkata went on a hunger strike Friday demanding seat adjustment with Trinamool Congress on honourable terms.
Banerjee then held a meeting with Congress general secretary in-charge of the state Keshava Rao on seat sharing, but it was fruitless.
Besides the KMC polls, the two parties have failed to strike alliances in almost any of the 81 municipalities that are also going to the hustings May 30.
The civic polls are politically crucial as they are considered the semi-finals before next year's assembly elections.