India, Malaysia to sign 13 MoUs during PM's visit
By ANI
Monday, January 18, 2010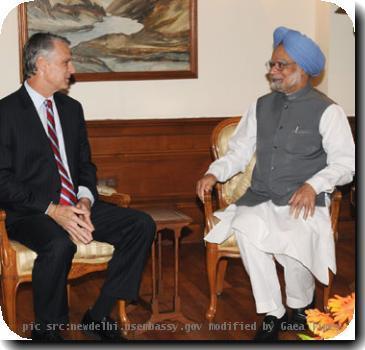 more images
PUTRAJAYA - India and Malaysia are expected to sign more than 13 memoranda of understanding (MoU) during the five-day visit to India of Malaysian Prime Minister Najib Tun Razak, starting from Tuesday.
Najib said most of the MoUs would be connected to the private sector.
"The latest count is 13 and we are still counting," he said.
Several bilateral discussions would be held on road construction, education, information and communication technology, oil and gas exploration, pharmaceuticals, tourism and green technologies.
He said bilateral trade between the two countries had reached 10 billion dollars and hoped it would increase in the future.
The Star quoted Najib as saying that his visit to India would be "substantive and not purely ceremonial".
"I will also extend an invitation to Prime Minister Manmohan Singh to come to Malaysia. It will enhance Malaysia's political and economic ties with India," he said.
Replying to a question on defence cooperation, Najib said India had provided useful help over the Sukhoi aircraft. "But we have not bought anything major. Our personnel were sent to India for pilot training."
On whether Malaysia would collaborate with India in nuclear technology for source of energy, Najib said: "We have not made any decision yet as nuclear energy will be the last option for the country."
He will meet Manmohan Singh on Wednesday and is scheduled to call on President Pratibha Devisingh Patil and vice-president Hamid Ansari.
Najib will also attend a roundtable meeting with selected Indian industrialists and launch a Malaysian property exhibition. In Chennai, he will meet the Malaysian community, including businessmen and students. (ANI)