Angelo Reyes Commits Suicide
By Reema, Gaea News Network
Tuesday, February 8, 2011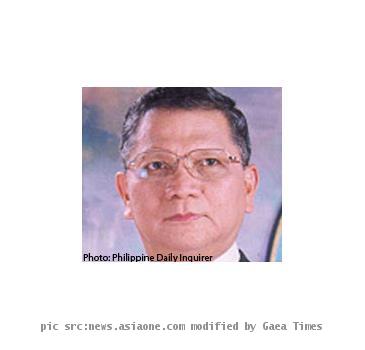 more images
MARINIKA, PHILLIPINES (GaeaTimes.com)- Former Energy Chief and Defense secretary, Angelo Reyes reportedly committed suicide, today early in the morning. The reason behind his death is still unknown. The 65 year old politician reportedly went to visit the grave of his mother, early this Tuesday, where he decided to land a gun shot right on his chest.
After the incident, Angelo Reyes was immediately rushed to the Quirino Memorial Medical Center (QMMC) in the city of Quezon. Reports say, that when he reached there, he had no pulse at that time. Although the doctors at the hospital tried to revive his life, they did not succeed. Finally, the veteran politician was pronounced dead at 8:32 a.m in the morning. The incident occurred at about 7:45 a.m, at the Loyola Memorial Park in the city of Marikina, where his mother's grave exists. After the incident, a close friend Angelo Reyes revealed the news to one of the leading daily news papers of the nation. On the other hand, Colonel Boogie De Leon confirmed that Angelo Reyes has been rushed to the hospital. Although a few sources tried to contact the family members of the politicians, none of them were available for any comments.
Reportedly, Angelo Reyes has suffered from a stroke, when he was alleged with "Financial Irregularities" and was therefore subjected to congressional investigation. He said that was unable to bear the defamation on him and his family. He said that he was unable to put any more blemished on the name of his mother whom he loved a lot. Many sources believe, that could be one of the reasons why he took his own life. Angelo Reyes is survived by his wife and five children.