Deathbed Confession About John F. Kennedy Assassination Stirs Whole Nation
By Naiwrita Sinha, Gaea News Network
Saturday, November 20, 2010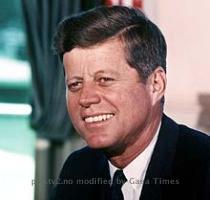 LOS ANGELES (GaeaTimes.com)- Former Governor of Minnesota, Jesse Ventura's show "Conspiracy Theory" has stirred a huge political controversy after the fifth episode of season two was seen hinting at the alleged connection between the assassination of John F. Kennedy and the other presidents Richard Nixon, Lyndon Baines Johnson, Gerald Rudolph Ford, and George H. W. Bush. This was revealed after a tape showcasing the deathbed confession of Everette Howard Hunt was aired on the show.
No doubt, this tape is going to give birth to a huge controversy in the field of politics. The whole nation's response is also keenly awaited with regard to the matter. The deathbed confession of Everette Howard Hunt shows him admitting that he was indeed a "benchwarmer" in this conspiracy. The John F. Kennedy murder conspiracy, popularly known as "The Big Event" was the result of the many of the conspiracies, in which Richard Nixon, and George H. W. Bush supposedly had some direct or indirect connection, the show hinted. What is going to be the reaction of the general public with regard to the tape remains a big question yet to be answered. Will the people of this democratic nation lose faith in their great leaders who have been till date regarded as nation's heroes. Will history be forced to make changes? Or the present incident will turn out to be a hoax? These are the questions which have been sparked by the controversial tape.
It does not come as a surprise that the latest episode of "Conspiracy Theory with Jesse Ventura" has already managed to seize many eye-balls with its controversial details about the death of former President John F. Kennedy. The death bed confession that was aired in the show is surely going to create a furore in the political circles.