Nestor Kirchner Dies
By Madhusmita, Gaea News Network
Thursday, October 28, 2010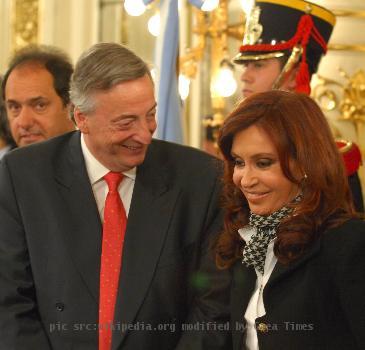 more images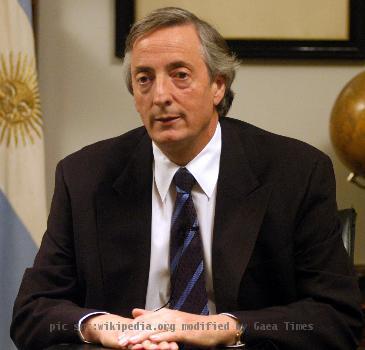 more images
BUENOS AIRES (GaeaTimes.com)- The former President of Argentina and husband of Cristina Fernandez de Kirchner, Nestor Kirchner breathed his last yesterday near his home in the Patagonian city of Calafate. His doctor Luis Buonomo confirmed the news saying that the former President had a cardiac arrest yesterday. Nestor Kirchner was operated in September for his heart problems and the media outlets reported that the whole country is in a state of shock following the death of a veteran political leader. Nestor Kirchner is survived by his wife and two children, Maximo and Florencia. He was 60 year old.
Thousands of people flocked to the palace of the President to pay their tribute to Nestor Kirchner. The President of United States, Barack Obama offered his condolence through a statement yesterday for the unfortunate demise of the former Argentina President. President Barack Obama said that Nestor Kirchner has played a significant role in the political life of Argentina. The President also said that he and his wife are keeping Nestor Kirchner's family in their prayers. Nestor Kirchner was the President of Argentina from 2003 to 2007 and after that his wife Cristina Fernandez de Kirchner succeeded him.
Canadian Prime Minister Stephen Harper expressed his condolence by saying that he was deeply saddened by the loss of Nestor Kirchner. The Canadian Prime Minister offered his deepest condolence and said that the death of the former president is a "significant" loss to the country. He said that their thoughts and prayers are with the Argentina. The prominent political figures from all over the country expressed their condolences at the unfortunate demise of Nestor Kirchner. However, his wife and current President of Argentina, Cristina Fernandez de Kirchner was unavailable for any comments.