Guruji Leads Delhi Delegation
By Sayantika Ghosh, Gaea News Network
Friday, May 7, 2010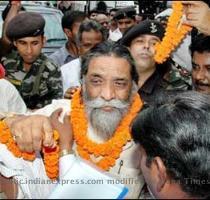 RANCHI , INDIA (GaeaTimes.com)-
Guruji
Shibu Soren led a delegation comprising of seven members in the wake of the BJP threat which have declared to call off its support for any government that is managed by Shibu Soren. BJP have declared that it shall withdraw all support within 48 hours time span which witnessed JMM (Jharkhand Mukti Morcha) party members to conduct a six hour discussion at
Guruji'
s residence before they boarded the flight to Delhi.
Apart from Guruji Shibu Soren, the delegation consisted of other JMM party loyalists like Nalin Soren, Hemlal Murmu, Mathura Mahato, Shashank Shekhar Bhokta along with Hemant and Champai Soren. Reportedly this is the second occasion on which BJP (Bharatiya Janata Party) have hurled threats at Guruji's government claiming that it shall withdraw any and all support within 48 hours.
The JMM members told the media that Guruji Shibu Soren shall lead the delegation team which shall meet Sushma Swaraj who happens to be the Lok Shabha leader from the opposition party. Torpa JMM MLA Paulus Surin failed to appear in Ranchi due to his ill health. He was supposed to conduct a discussion with speaker C P Singh. JMM members told the media that Paulus Surin was coming over to Delhi to resign from his position in the Assembly. It was Paulus Surin's interference which pacified the crowd in Ranchi after Hemant Soren decided to resign from his position. Earlier it was said that Hemant Soren have resigned from his position to make sure that Guruji Shibu Soren is able to compete for the Assembly By-Elections much ahead of June 30. However, the JMM members said they have urged Hemant Soren to hold on to his position until matters get settled with BJP.