Sargent Shriver Funeral Attended By Hundreds
By Naiwrita Sinha, Gaea News Network
Sunday, January 23, 2011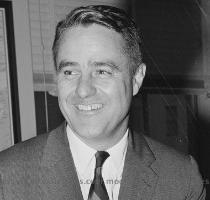 POTOMAC (GaeaTimes.com)- As the former Democratic Vice-Presidential candidate Robert Sargent Shriver's body was laid to rest on Saturday, hundreds had gathered at the Our Lady of Mercy Parish, Potomac, Maryland to pay their tribute to the great man. His funeral ceremony witnessed the presence of U.S First Lady Michelle Obama along with Vice- President Joe Biden, former President Bill Clinton,
Apart from the political figures, eminent personalities who had turned up for the funeral of Sargent Shriver included U2 singer Bono, Oprah Winfrey, Clint Eastwood, Muhammad Ali. Former House Speaker Nancy Pelosi had also joined the several others. Sargent Shriver passed away on January 18 after fighting the last eight years of his life with the fretful Alzheimer's disease. The founder of the Peace Corps was a great source of inspiration not only for his family but for many other eminent politicians as well. Former U.S President Bill Clinton said that Sargent Shriver had inspired him and his wife Hillary Clinton a lot during the 1960s and 1970s phase when they were going through a political crisis situation.
Daughter Maria Shriver recounted how her father had been an important factor in the changing of the lives of many with his revolutionary concepts calling him a "legendary public servant". Son-in-law and former California Governor Arnold Schwarzenegger along with others were seen carrying the casket of Sargent Shriver for the funeral inside the Our Lady of Mercy Parish church. The funeral service hymns were sung by Bono, Wyclef Jean, Vanessa Williams, soprano Harolyn Blackwell and Irish singer Glen Hansard. Sargent Shriver is survived by his five children and nineteen grandchildren who recalled of the man's love for philanthropy and baseball.