Obama: Black lawmakers must rally voters back home
Bill Maher digs up O'Donnell 'witchcraft' clip
Turnout is key, but will Democrats return to polls
LONDON - British police investigating the fatal stabbing of a Pakistani politician in London Saturday appealed for witnesses to come forward.
Pence is tops in conservatives' straw vote
Tens of thousands at German anti-nuke demo
Tight outcome in St. Maarten's 1st parliament vote
Obama rallies black support at lawmakers' dinner
NEW DELHI - The Congress screening committee, recommending candidates for the Bihar assembly polls to the central election committee (CEC) headed by party chief Sonia Gandhi, is expected to meet again as its discussions remained inconclusive Saturday, party sources said.
New York, Sep 18 (IANS/WAM) The UAE will participate in a three-day UN summit here Monday to review the Millennium Development Goals, it was announced Saturday.
Montana GOP policy: Make homosexuality illegal
Gridlock? Men with earpieces? Must be the UN
BHUBANESWAR - Orissa's ruling Biju Janata Dal Saturday intensified its tirade against the Congress-led central government, accusing it of blocking various mega projects in the state including one by South Korean steel major POSCO.
BANGALORE - The Bharatiya Janata Party (BJP), ruling Karnataka, Saturday told state Governor H.R. Bhardwaj to stop "dabbling in politics" or opt to "become spokesperson of the Congress party".
Senate hopeful O'Donnell cancels national TV spots
BANGALORE - The Bharatiya Janata Party will decide at an "appropriate time" whether Gujarat Chief Minister Narendra Modi will campaign in Bihar for assembly polls or not, senior party leader M. Venkaiah Naidu said Saturday.
NEW DELHI - Senior Bharatiya Janata Party leader Rajnath Singh, here on Saturday described Congress party as "the biggest communal party in the country" and that it should be aware of its statements and appeasement policy.
KOLKATA - Trinamool Congress chief Mamata Banerjee Saturday promised a job to a family member of all her party workers who fell victim to Communist Party India-Marxist (CPI-M)-sponsored atrocities, once her party comes to power in West Bengal.
Cairo, Sep 18 (IANS/RIA Novosti) The UN nuclear watchdog IAEA has approved an Egyptian site to host the country's first nuclear power plant.
BANGALORE - Senior Bharatiya Janata Party (BJP) leader M. Venkaiah Naidu said Saturday that everybody has to accept the court verdict on Ayodhya, expected from the Allahabad High Court Sep 24.
WASHINGTON - As India prepares for the visit of President Barack Obama in early November, its numerous concerns ranging from H1-B visa fee hike to hi-tech export controls to cross border terrorism appears to have had some positive response.
Troops open fire in Indian Kashmir, killing 3
KABUL - Voting ended Saturday afternoon in Afghanistan's parliamentary election, the second in the country's recent history.
Nigeria's president kicks off election campaign
With House at stake, turnout is key for Democrats
ISLAMABAD - Amidst reports of corruption and lack of governance in Pakistan, calls for a change in the government are being raised much more vociferously from all quarters.
AHMEDABAD - Senior Bharatiya Janata Party (BJP) leader L.K. Advani Saturday went to Sabarmati jail here to meet Gujarat's former minister of state for home Amit Shah, arrested in the alleged staged-killing of Sohrabuddin Sheikh in 2005.
AHMEDABAD - Senior Bharatiya Janata Party leader Lal Krishna Advani met former Gujarat Home Minister Amit Shah, a prime accused in the Sohrabuddin-Kausar Bi murder case, in Sabarmati Jail here on Saturday.
Iranian president stops in Syria on way to UN
BOKARO - Jharkhand Mukti Morcha (JMM) chief Shibu Soren Saturday said Chief Minister Arjun Munda was the perfect choice to rule the state but also added that he can't predict the longevity of the Bharatiya Janata Party (BJP) government.
A look at Sweden's candidates for prime minister
Troops open fire in Indian Kashmir, killing 2
Spanish tennis federation faces Fed Cup walkout
SILIGURI - Rajen Mukhiya, a long-time close aide of Gorkha National Liberation Front (GNLF) president Subhas Ghising, Saturday joined the Akhil Bharatiya Gorkha League (ABGL).
Oktoberfest kicks off in Munich
BERLIN — Munich's mayor has tapped the first keg, opening this year's annual Oktoberfest in southern Germany, where millions of guest from around the globe are expected to clink mugs of frothy beer in celebration of 200 years of the world renown festival.
KABUL - Voters queued outside thousands of polling stations to cast ballots in Afghanistan's parliamentary elections Saturday as Taliban attempted to derail the vote with rockets and bombings.
PATNA - Another Janata Dal-United (JD-U) leader Saturday demanded snapping of ties with alliance partner Bharatiya Janata Party (BJP) in Bihar, saying it would help the party perform better in the assembly elections.
Fire hits Guinea election security force office
NEW DELHI - The Congress screening committee, which will recommend candidates for the Bihar assembly polls to the central election committee (CEC) headed by party chief Sonia Gandhi, will conclude its discussions Saturday.
WASHINGTON – In this week's address, President Obama called out the Republican leadership in Congress for defending the entrenched special interests and the status quo. After the Supreme Court overturned decades of law and precedent in the Citizens United decision, the administration tried to fix the new loopholes in the campaign finance system with a common sense law. This law would require public disclosure of who funds political ads and it would restrict foreign controlled corporations from spending to influence elections. But, the GOP leadership has blocked a vote on the law in the Senate in hopes that the special interests will reward them by funding attack ads against their opponents.
ISLAMABAD - Former Pakistan President Pervez Musharraf had all intentions of handing over nuclear scientist Dr. Abdul Qadeer Khan to the United States, former Prime Minister Mir Zafar Ullah Khan Jamali has disclosed.
It is very easy — indeed it has become fashionable — to denounce security forces for the unending violence in Kashmir Valley. Sadly, it is not the full story.
KATHMANDU - When Tundikhel, Nepal's Hyde Park, turned into a sea of humanity with flags fluttering and hundreds of people cheering the nation's oldest party's six-decade-long march for democracy, few remembered that the fight had started from Kolkata in India.
POLITICAL INSIDER: Portman leads Fisher in OH race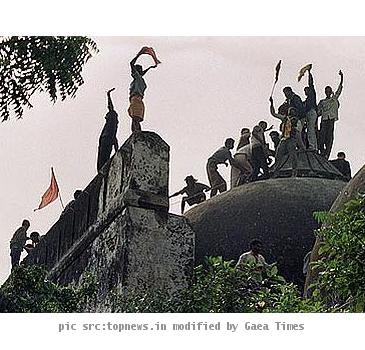 more images