Kendrick Meek Wins Florida Democrat Nomination
By Reema, Gaea News Network
Wednesday, August 25, 2010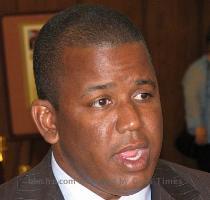 more images
TALLAHASSEE (GaeaTimes.com) On Tuesday night, Representative Kendrick Meek left behind real estate billionaire Jeff Greene to win the Democratic Senate nomination in Florida. Kendrick Meek was found leading over opponent Jeff Greene by 57-31 percent with 95 percent of precincts reporting. Come this fall and the Democrat nominee Kendrick Meek will face the Republican nominee Marco Rubio and Florida Governor Charlie Crist who came out of Republican Party in April to run as an independent.
Although Kendrick Meek had to struggle a bit during the initial months of the primary campaign, he went on to lead the pre-election polls in the last few weeks after he vehemently criticized Jeff Greene's million dollars betting against the housing market. On the part of Jeff Greene, the real estate billionaire came up with attack ads more than Kendrick Meek and tried to project the latter as a corrupt incumbent. However, Kendrick Meek was largely supported by the President Barack Obama and former president of United States Bill Clinton. He was also backed by Florida's former senator and Governor Bob Graham. Jeff Greene's campaign that highlighted his personal life and his friendship with stalwarts like boxer Mike Tyson failed to help his situation much.
On Tuesday night, Kendrick Meek was able to get an early lead over Jeff Greene. An early official return with 36 percent of precincts reporting stated that Kendrick Meek was leading with 55 percent of votes in his favor while Jeff Greene managed 32 percent. After the declaration of the Florida Democratic primary results, Kendrick Meek maintained in his victory speech that the November election is going to be a tough one with "two conservative candidates…that have similar records".