SKorea takes North to UN Council over ship sinking in strong bid to seek int'l punishment
By Vijay Joshi, AP
Friday, June 4, 2010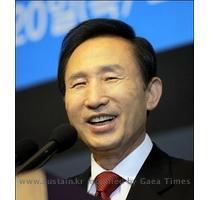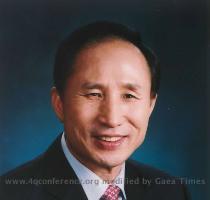 SKorea refers North to Security Council over ship
SINGAPORE — South Korea's leader said Friday his country has referred North Korea to the U.N. Security Council over the sinking of its warship, taking the strongest step ever toward making Pyongyang face international punishment.
Relations between the Koreas have become war-like since the sinking of a South Korean ship in March that killed 46 sailors. An international investigation found it was torpedoed by a North Korean submarine.
In a hard-hitting speech bereft of diplomatic politeness, President Lee Myung-bak called North Korea a liar, a war-monger, an unrepentant rogue nation and a threat to Northeast Asia.
"North Korea must admit its wrongdoing" and "pledge to never again engage in such a reprehensible action," Lee said. "If the enemy continues to taunt us and think that they can do whatever they want they must understand that there is a limit."
They "must understand very clearly that they will have to suffer the consequences."
Lee, who was addressing Asia-Pacific defense ministers including U.S. Defense Secretary Robert Gates, called for international support to act against North Korea and its secret nuclear weapons program.
"If we think that after a while North Korean's action will be condoned and stability in the (Korean) peninsula will somehow be maintained we will be fooling ourselves because North Korea will once again resort to attacking others," Lee said.
In a bid to make Pyongyang realize its folly, the South Korean "government referred the matter of North Korea's attack on Cheonan to the U.N. Security Council," Lee told the annual Shangri-la Dialogue, without elaborating.
Mexico's U.N. Ambassador Claude Heller, the current Security Council president, told reporters that he will meet South Korea's U.N. Ambassador Park In-kook late Friday morning EDT. The letter the ambassador will hand over will bring the issue of the ship sinking to the council's attention but will not ask for specific action, a well-informed U.N. diplomat said, speaking on condition of anonymity because the letter has not been made public.
Despite a history of being attacked by North Korea, Seoul has never taken Pyongyang to the Security Council for an inter-Korean provocation, indicating now that it wants to take the matter beyond the Korean peninsula.
The two Koreas technically remain in a state of war because their three-year conflict ended in a truce, not a peace treaty, in 1953.
However, it is not clear what action the Security Council may take unless it can win the support of veto-holder China, the North's closest ally, which has been reluctant in the past to back sanctions against its neighbor.
Chung Min-lee, a senior South Korean official, later told reporters that the Security Council "has to step up to the plate with some type of action. Whether it is new sanctions is unknown."
Earlier, Gates told reporters that a joint show of force by the United States and South Korea may wait until the U.N. considers accusations against North Korea.
"There's a sequencing involved in this, and it may be that there is a desire first to see what can be accomplished at the U.N. and then think about next steps," Gates said.
He suggested that what had been a fast-moving push for new joint military exercises has slowed. Both countries have been vague about what the exercises would look like and when they would start.
One concern is not to do anything that would provoke the North further, Gates said.
In his speech, Lee laid out a litany of complaints against North Korea, including a 1983 assassination attempt on the South Korean president that killed 21 other people and the time-bomb attack of a Korean Air flight in 1987 that killed all 115 people on board.
Both times, North Korea denied a hand and claimed the accusations were fabricated. Even in the latest confrontation, it has accused the U.S. military of mistakenly firing a torpedo at Cheonan.
"Such outlandish assertions are laughable," Lee said. "North Korea violated our sovereignty and attacked directly our armed forces and one of our navy vessels. That clearly makes it a military provocation," he said.
North Korea "infiltrated our territorial waters and attacked one of our navy corvettes by firing a torpedo surreptitiously."
The attack is not only a serious threat to stability in Northeast Asia but also "undermines global peace," he said.
He said "North Korea must admit its wrongdoing" and "pledge to never again engage in such a reprehensible action."
In North Korea, the military rank and file continued to repeat the official line with excessively nationalistic phrases.
"If an enemy dares to invade our land, territory, or sea even an inch, the (North Korean army) will mercilessly punish the enemy with the might of our army-first leadership," Cpl. Kim Kwang Chol told Associated Press Television News on the North Korean side of the demilitarized zone before Lee delivered his speech.
__
Associated Press Writer Edith Lederer contributed to this report from the United Nations, and AP writers Anne Gearan and Alex Kennedy contributed from Singapore.
Filed under:
Diplomacy
,
Government
,
International Relations
Tags:
Asia
,
East Asia
,
Lee Myung-bak
,
North America
,
North Korea
,
Pyongyang
,
Singapore
,
South Korea
,
Southeast Asia
,
United States